In the begining...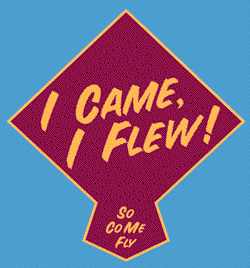 We Flew, and it was good!
December 3rd, 2000
Coming right on the heels of the NCKC Christmas party, we were all ready to fly. Many of us had new toys, Ruth and Ernie had a new Crooked Seam kite they won in the raffle. I made it and i can't imagine a finer home for it than Ruth and Ernies kite bag. Aaron and Robin were there with all there loot from the party my god did they clean up. Robin got an absolutely gorgeous Shanti Airwave tye died in purple after this years hottest bidding war (shades of Flora..). Aaron won almost everything in the raffle and then outbid the deep pockets of Dan Whitney to take home the auctions biggest treasure an amazing Swallow Tail Delta made by Nathan Sendan. We all enjoyed Joyce Irvings orange cookies while we waited for the wind. Brian and Josh showed up with more cookies (it seemed like Josh won most of the cookies in the auction) but no wind. About this time Sam, Heath and their guests decided to strike off in pursuit of wind. A quick cell phone call and they determined that Petaluma was the place to be. We decided to stay we had cookies and we were all having too much fun with Sharon's Frido. If you don't own one - GET ONE!!! I cannot more highly endorse a kite. When it came out i regarded it as a cute novelty. Now that I have flown one... this is a capable fighter which will relaunch from ANY position - it is goof proof. Plus it does all sorts of "tricks" flipping and pancaking like no other fighter i have flown. It is excellent for teaching fighter skills and fun for the experienced fighter pilot as well. The wind never really picked up and Aaron and Ruth were forced to run in circles to fly their new kites. We called it a day and all went out for steaks! see pictures of new toys
November 5, 2000
Another perfect day of fun in the sun. We had a great crowd, Nathan and Kathy made the trip up and brought along David Wagner and his beautiful kites. David had some very detailed kites combining patchwork with printing on fabric, but the one that really got everyones attention was the Leonardo DaVinci Genki which stayed in the sky despite the afternoon lulls in wind. Robin and Aaron Champie were there and we played with a wide variety of sport kites, while Sharon remained focused on fighters. This worked out great for Jerry and Jane as they had never flown fighters before, a few quick lessons and they were flying like pros. Ernie and Ruth showed up with a circus wagon full of bears and immediately began dropping. The great thing about the "circus" is Ernie has so many different bears and launch rigs that he can find a combination to work in almost any wind. As the afternoon progressed there was less and less wind and more and more fighters (sometimes i think Sharon is smarter than the rest of us...). When the sun set we all packed up and headed out for Indian food mmmmm. lookie we got pictures!

October 1st, 2000
With Sharon in Treasure Island and Arnold in Chicago, Mike Gough filed the following report:
As usual I got behind schedule getting out to Piner for the Fun Fly. Arriving about 1:15, I was concerned because I saw no cars I recognized. One must have faith, so I loaded my kites and stuff in my little wagon and off to the field I went. I was surprised to see a couple out on the field flying a red rainbow delta. I thought to myself, Thank God I won't have to sit out here by myself. I wandered over to meet them before I sent any of my kites up. As I approached, I noticed a foot locker. Inside the foot locker were several teddy bears in uniform. Come to find out, this couple (Ernie Fosselius & Ruth Zulli of Sebastopol), has a little corp. of Teddies called the "Bear Devils". My luck must have been keen that day, they were ready to pack it in and go look for another field to fly. We started talking and come to find out they did not know of our monthly fly at Piner, they were just out to try a couple of places to drop their bears. So I talked them into staying. I went over and put up my Stars and Stripes Rok, and my Magician, then right back to Ernie and Ruth. By this time the wind was picking up enough for them to start Bear Droppings! Ernie has spent a lot of time and effort on his rig to launch bears, as he puts it, still trying to find the perfect one. He even rigged and auto timer and we were able to launch a bear from my Rok. Wow! As the wind continued to pick up, they were able to launch there more extravagant bears. I really enjoyed watching them, and I think they had as much fun showing me. Well I got Ernie and Ruth tuned into our little fly as well as the NCKC, so I'm sure we will see a lot more of them. Around 3:15ish George Maurer showed up. This is the first time I have met George. Seem like we keep just missing each other at these flys. George put up a small flow form with lots of line laundry. George came over and introduced himself, and we all chatted the rest of the time away. Well it's 4:00 o'clock and I have to go, so the other 3 decided to pack it in as well. Said goodbye to Ruth and Ernie, and George and I chit chatted all the way back to the cars.

I really like this part of the Kite community. You get to meet great new people al the time. I am looking forward to seeing George, Ruth and Ernie again as well as all the regulars. Arnold, Sharon, Nathan And Kathy, I missed seeing you there.

P.S.....Sure a lot of bear doppings out there at Piner field. I would love to see more, so all you bear corps come on up for the next fun fly! I may start one of my own.

Keep 'em in the air!
Mike Gough

September 3rd, 2000
The dedication of the Sonoma Flying Fields. The So CoMe Fly regulars packed their bags and headed to Sonoma to join David Wishingrads party. The following is reprinted (with permission) from the NCKC newsletter "Wind Ramblings":
Everyone turned out for the dedication of the Sonoma Flying Fields. The fields are huge so there was plenty of space. The wind was funky. That is really the only way to describe wind that was up and down all day and at one point even swiveled almost 180 degrees for about a half hour. It varied from nonexistent in the morning to 25mph in the afternoon. This made for challenging flying but hey, we're professionals right???
Dennis and Carol Churchill did a great job with the public. They set up right near the entrance, spreading a wide variety of kites out in the grass and fielding questions from spectators. They also took care of the NCKC information and signed up a bunch of new members.
Farther down the main road leading in to the park, Lavender Winds set up their Wind Garden. Its always nice to see them and the crowds just loved the ground display. Behind them, was the BIG stuff, Tim with his 252 Sutton and Dan not to be outdone with a 450, now that's a kite!
Bob Harris and Jennifer Snyder were there flying their fanciful frogs and Lee Thrall was pulling surprises out of his kite bag as well. Sharon Champie, Pete Hartman and the gang worked hard all afternoon to keep a good variety of kites in the air. Brian, Arnold and Phil Kalenowsky taught dual line flying throughout the day. Avispados, as well as virtually everyone else, did flying exhibitions all afternoon.
No event would be complete without J.R. He and the local kids made over a hundred traditional Kimono kites. Later, he saved the day by rescuing Sharon's Della Porta from forty feet up in a Cypress tree.
The day ended with Arnold and Dave DeBella flying mixed pairs, Dave with a stack of Revs, Arnold with a North Shore Radical and 100' tube tails. A strange but interesting combination, and they sure seemed to be having fun.
The event was a great introduction of the full gamut of kiting to the people of Sonoma. David Wishingrad the event coordinator, presented NCKC with an award for all our efforts. A planning committee is already being formed for an event next spring. To get involved contact David at 707-938-0529.
August 6th, 2000
Another fabulous turnout, with new members who discovered us through the article on David Wishingrad in the Press Democrat . I showed up just as Mike did. No sooner did we have Mr. Smiley and the Wizard up when Sharon showed up with Aaron and Robin. The wind was light and Mr. Smiley wanted to lay down instead of fly so when Sharon challenged me to a fighter duel I leapt at the chance. I should have had better judgment. We ran heats to four points and in three heats Sharon beat me three times, I never scored a single point!!!! - Look out WSIKF - this lady's lethal. By now the wind had picked up, Mike was flying his exterminator , while Aaron flew an Elixir. I broke out my Benson because Robin wanted to try it, she was warming up on a First Step. All of a sudden I look over and someone is launching a pretty little delta. I go over and introduce myself and it's Richard Lamar. Richard just relocated to Northern California from Denver and saw the article and decided to join us. Bill Tomlin and his wife Anita showed up with three grandkids in tow. Bill is a new NCKC member and makes beautiful fighters. Each of the grandkids had made their very own fighter (with long streamer tails), but before they flew them we tuckered em out by sending them chasing after bears for a while. Jerry and Jane showed up about the same time. Jerry read about us in the paper and decided to come out, he's looking to get into traction kiting and is hoping to meet people who can offer advice and direction. I got him hooked in to NCKC where the newsletter will soon be featuring a column on traction kites. One of the trees promptly ate Jerry's foil, that's no way to welcome a new flier. With me on one end, Jerry on the other and Mike up the tree, we were finally able to free the kite. Before we knew it it was past five and everyone started to wrap up. It was down to me, Jerry and Jane and we were just leaving when two guys walk onto the field with an armload of sport kites. I said goodbye to Jerry and Jane, unpacked again and started flying with Heath and Sam. Sam has just gotten Heath addicted to kites (good job Sam) and when they saw the fly in the paper they had to check it out. Sam has some cool kites, soon we were flying a very fast stack of little Deltas and having a great time. It was 7:00 when I packed up a second time, but I was glad I stayed. I know we'll be seeing more of Heath, he's got the bug! (p.s. look for photos soon!)
July 2nd, 2000
Wow - what a sky show! We had a great turnout and filled the sky with a ton of kites. When Sharon and I arrived, Mike was already flying a beautiful Stars & Stripes Rokaku. I immediately added my Red White and Blue Delta Conyne to the sky. Sharon flew a red Buka against the blue sky and white clouds to complete the patriotic weekend theme. Curtiss showed up with a pair of Stylus foils in hand. He never even got them out. Before he knew what hit him Sharon had given him a proper lesson in fighter control and the two of them were dogfighting away. Mike and I were experimenting with my newly made line climber/bear drop rig trying to iron out the kinks and before long there were bears flying all over. Nathan and Kathy arrived and immediately put up a 12 foot red Rok with about ten pieces of line laundry on it. Mike added a few 50 foot tube tails and a wiggle worm to his kites and by now the sky behind Piner Elementary was awash in color. Not wanting to forsake the color theme Nathan put up a bizarre and elegant Red White and Blue Delta variant, hard to describe but very pretty. None of us brought a camera. The afternoon swirled away with bears dropping, Mike flying his exterminator, Sharon feeding us all jellies and Nathan using a banner pole to rescue a stranded bear. As we were packing up, a young couple showed up with their two daughters and a pair of kites . When we left they were still flying.
June 4th, 2000
So CoMe Fly is now so successful we are having it in multiple locations!!! Actually it was an error in communication on my part that caused our little band to split in two. While i was flying by myself behind Piner Elementary, Sharon and George were flying behind Piner High! I had a great time, there were a bunch of model rocket people out and they had some very cool toys (did you know rocket engines went up to size G?). I watched them do their stuff while flying dual line and parking alot of single line stuff in the sky as well. Once they had lost all their rockets i taught a few of them to fly kites. Also got some good pictures which will be on the website one of these days. Meanwhile around the corner at the high school... Sharon flew a bunch of new fighters she acquired in the great Hornitas swindle. Bruce Lambert made her a low wind fighter and Dennis Crowley made an absolutely gorgeous hand painted Buka that is almost too pretty to fly. Course we know how much Sharon likes buka's so fly it did and, i quote "like a dream." I'm not sure what George flew, mostly he was busy talking to the TV people. Our whole gang will be reunited once again the 2nd of July behind Piner Elementary, 2590 Piner Avenue. Hope to see you there.
May 7th 2000
Rainout. Don't get me wrong, I'll fly in a light rain. This was a moderate rain combined with no wind. I sewed instead.
April 2nd 2000
A great day for flying. Good wind, sunshine and almost completely dry grass! Of course this meant dancing around softball practices but there is plenty of field for everyone. It was just me (everyone else was at the BASKL April Fools Fun Fly) so i put up my DC and spent the afternoon trying to learn to do a decent 540 consistently.
March 5th 2000
Another great day for kite flying. The field was of course a mudpit but that helped discourage softball practice leaving more room to fly. I had been practicing for about 45 minutes when my friend Brian Bliss showed up. I went to college with Brian. He lives down in Freemont and made the trip up to try his hand at flying. We had no sooner set him up with the North Shore Radical, when Raj and Katie showed up with a C-Quad. We chatted awhile but they decided against getting covered in mud so they watched us fly for a few minutes from the safety of the sidewalk. Brian took to flying quickly and after a few relaunches he was on his own and flying like a pro. Nannette came by with lunch and we put several single line kites up in the air. With Nannette's help we tried to fly an experimental fighter i made. It was less than responsive or predictable but Nannette was patient. I rewarded her by smacking her in the side of the head (with the kite) and nearly putting her eye out. She's fine (thankfully) but the black eye will be fun to explain, as for the kite - back to the drawing board. The wind was cooperative and we had a great day of flying, hopefully you can join us next time, i promise not to hit you with a kite.
February 6th 2000
The rain took the day off just for us. I sloshed my way across the soggy field in short sleeves enjoying the great weather and wondering if the wind was going to attend. No matter, i set up shop and began tying of a lineset for Nannette's new Christmas quad, a great one off from Laughing Gecko. I was just equalizing the 4th line when Sharon showed up with the wind. She bestowed upon me my very own roll of indian cotton fighting line. This was tantamount to baiting a hook for victims, but i was so thankful i swallowed the hook whole. Soon we were battling over the marshes, Sharon winning of course (i think i scored one point all afternoon). Sharon has become the darling of the Northwest Fighter Kite Association, and with them all gunning for her she is adhering to a strict and rigid practice schedule! Just as i was showing Sharon the tail i sewed for my DC, Nannette showed up with lunch for me, and there was much rejoicing. Nannette started flying a couple of sleds, one she made and one i made (hers flew better). George came with a great assortment of kites - he added a little sled to the mix and brought a beautiful delta. The delta was called "Sunset" and was made by Irving Reid. Extremely pretty in the sky and able to just sail out the lulls in the wind beautifully this had to be the nicest delta i've ever seen. I fished a Kevin Shannon Flip Flop Rokaku out of the bag and we all had a bunch of laughs playing with that. Everyone trickled away towards 4pm and i stayed and practiced dual line until dusk, Berkeley is only a month away!
January 2nd, 2000
Despite the hype the wind did prove to be Y2K compliant, a little sporadic maybe, but definitely blowing. Mike was already there when i arrived and had his brand new Delta Conyne flying. I quickly got mine out and soon there were two in the air. We had made these at the No Politics No Whiners #2 Kite Making Workshop. We flew dual lines for a while and then broke out my two fanatics to play pairs. During one of the lulls in the wind i mentioned that i'd always wanted to train them. Mike knew just what to do. By the time the wind picked up i was flying a stack off two, very cool. It was about this time when Sharon showed up with her friend Steve. They were immediately followed by Nathan and Kathy carrying a big box of kites. Nathan is working with the family of Lee Toy to help catalog his kite collection and he brought a few for us to see. In no time the grass was covered with beautiful kites. There were lots of Lee's creations, beautifully appliqued fighters (which Sharon flew!) and an amazing patchwork Della Porta. In addition there were kites made by others including George Peters, Stan Swanson, Chris Dunlop and more. The Chris Dunlop piece was an intricately appliqued dual line with rainbow Dacron leading edges - you have to see it to believe it. You can see it! Mike brought a video camera and captured some digital stills. There were several Stan Swanson kites: an Elephant, a neat little Swallow and a California Condor (#2!!!). Suddenly we had an array of kites worthy of a kite festival and we all took turns flying and fishing the next treasure out of the box. We flew til the wind died down and talked until after dark. If this is how the new Millennium is gonna be - i like it already! Show me the pictures!
December 5th 1999
A gorgeous day. One small problem, no wind! I was flying a fighter on thread with a fair amount of success when Curtiss arrived. He'd never flown a fighter before so we corrected that quickly . We spent a while flying and chatting then he had to go off to work. By this time Sharon had arrived and was trying several different fighters with limited success. We gossiped some and then headed to the car for lawn chairs. Before we got to the car we ran into George Maurer. George introduced himself and as we stood there, Nathan and Kathy Sendan pulled up. We all grabbed chairs and spent the rest of the afternoon swapping stories. If you get a chance ask George about catching a bird in a parafoil! Nannette stopped by to join the fun and conversation. We inventoried kite bags, exchanged kite making tips, played a game of my Rok is bigger than your Rok (i lost) and periodically ran around in circles to put one thing or another in the air. When darkness rolled around we reluctantly headed to the cars, only to talk for another 45 minutes in the parking lot. All in all it was a great day with friends new and old. Perhaps next time we'll see you there.
November 7th 1999
The weather did not look promising as i pulled into the parking lot to find Sharon already waiting. In no time at all we had a pile of kites in the grass and fighters in the sky. Sharon was flying a nifty purple Buka fighter she had made, while i stuck to a Jeff Howard. Mike showed up and soon we were busy tangling three fighters together high in the air. The wind kept picking up and we kept right on flying even when it started raining. The rain and wind got progressively stronger and soon (much too soon) we were forced to call it a day.
Go Back to Arnold's Website
Go Back to So CoMe Fly