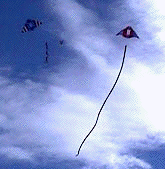 The first part of the afternoon was a display of our new Delta Coynes. Then we stacked my fanatics. This was super cool, i'm glad Mike knew how. Here i am with the stack next to Mike's Exterminator.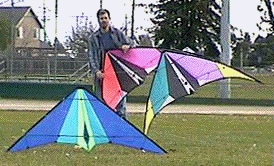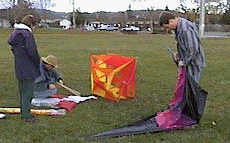 Soon we were all busy assembling the Lee Toy treasures Nathan and Kathy brought. I am assembling an 8 foot delta which came out of an 18 inch long stuff sack - nifty. That's a Contravento snowflake lying in the background and Nathan is assembling a large enif.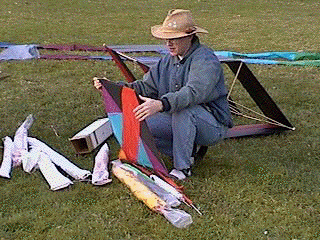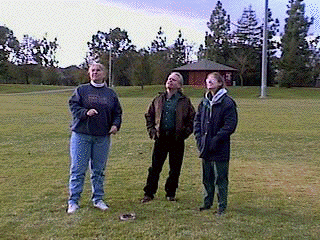 Nathan examines an early George Peters fighter while Sharon gives a fighter demo. Sharon definitely found her favorite kite, this beautiful Lee Toy California fighter.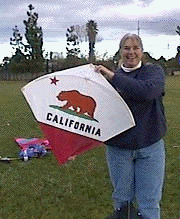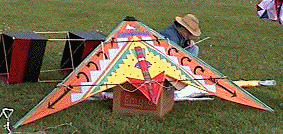 Chris Dunlop "Eclipse" 1990 - that's all applique!!!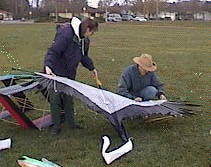 Nathan and Kathy start to assemble the California Condor, this is an impressive kite with amazing hand made fittings for the wing battens.
Later i attempt to help Nathan with the intricate bridle on the condor, while Kathy helps Sharon launch Lee's gorgeous patchwork Della Porta.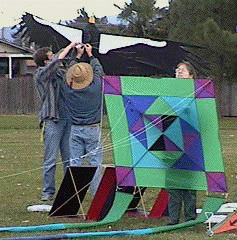 The condor flies!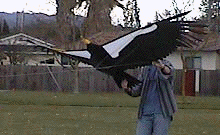 and so does the Della Porta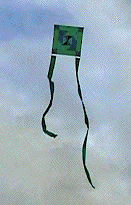 We had a great time with some truly amazing kites. come join us next time. You never know what will happen.
So CoMe Fly
Arnold's Homepage